Flashsale rooms randomly appear in the game for $14.99 (USD) before disappearing. Flashsales will reappear eventually if not purchased. All cats and items on flashsale floors are only available either as a flashsale purchase OR for purchase with 20 premium keys in the premium tower. Upon purchase, the cat and item appears in the premium tower.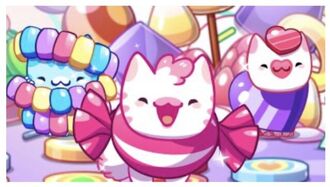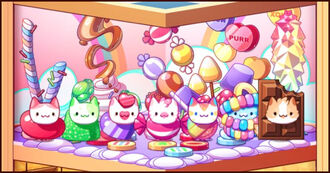 Upon Buying
1 Cat
1 Decoration
40,000 coins
3 Premium Keys
400 gems
300 logs
Contents
Cats
Bean - Secret
Gummy - Secret
Candy Heart - Secret
Hard Candy - Secret
Lolly - Secret
Candy Necklace - Secret
Chocolate - Secret
Decorations
Creamy Mountain - Secret
Candy Pile - Secret
Candy Towers - Secret
Candy Rug - Secret
Floating Candies - Secret
Sugar Stick - Secret
Sugar Hearts - Secret
Community content is available under
CC-BY-SA
unless otherwise noted.