Tabby Bug was given to everyone playing on May 22nd, 2019, and again on October 27th. It is identical to Tabby Cat besides the animation and profile image. Tabby Bug may have the longest cat animation.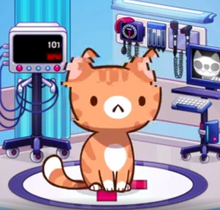 Release notes: In light of recent events, it has become clear that some time needs to be invested in bug fixing. We are deeply sorry for the troubles experienced on the Retrofuture Club event and are committed to do better next time. As compensation, we have created an exclusive cat that will be granted to the entire server. Please reload twice and look for it in your inbox. "Tabby Bug" will be deposited straight in your inventory and won't show up in the cat-alogs/towers. You will be able to use it to decorate your showrooms and contest entries. Thank you so much for your support and patience.
Community content is available under
CC-BY-SA
unless otherwise noted.